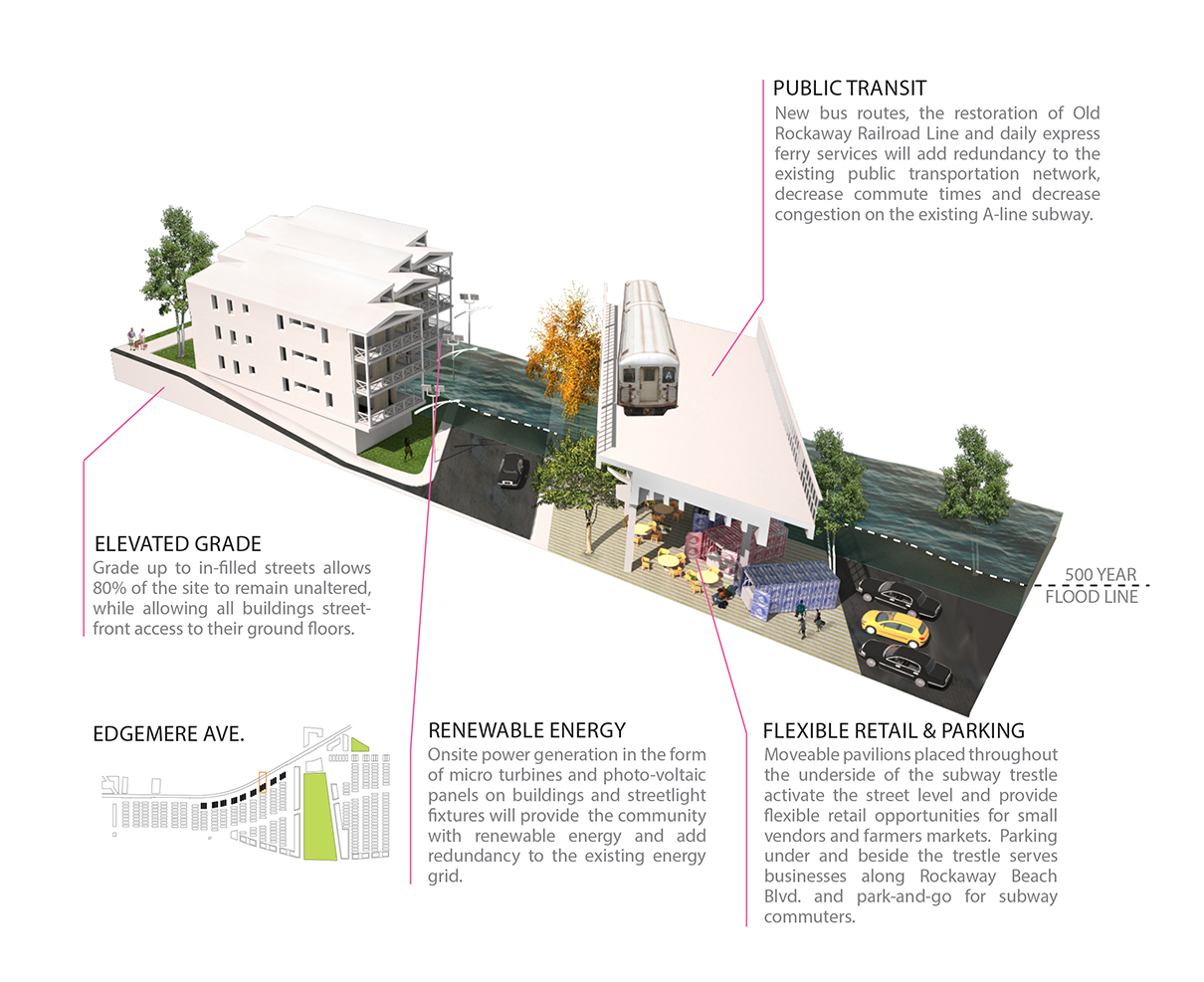 FARROC For a Resilient Rockaway
Design for Safe-to-Fail Neighbourhood in New York
Sustainable's proposal for Far Rockaway establishes a series of 'safe-to-fail' measures to ensure that the vulnerable neighbourhood remains safe before, during, and after future severe weather events. When overpowered by Mother Nature, 'safe-to-fail' structures act to prevent extensive damage and to allow the community to self-recover.
The first two combined strategies enlarge the existing beach and reintroduce a natural dune system. When a storm surge hits, the enlarged beach and dune system will slow down and dissipate the surge, lessening the impact of damage further inland. The dunes and beach system will enhance tourism by attracting people to swim, surf, and explore the area. Positive economic growth will in turn spur increased urban density, and vice versa.
The third strategy is a parking structure/water baffle, acting as a substantial breakwater beyond the beach and dunes during a severe weather event, while providing much-needed tourist parking during normal times.
A retail promenade along the new esplanade atop the parking structure fosters access to local businesses. The combined design will be safe during and after a severe weather event.
These parking structures/water baffles work together with our fourth strategy: areas with built-up grade roadways. The residential and commercial buildings sit on stilts, adjacent to artificially-raised roadways that protect utilities and services below. As an economical and environmental alternative to raising 100% of Far Rockaway, Sustainable proposes that only 20% of the land area needs be raised to provide the required protection. Should the local utility services fail, all buildings are designed using passive design principles and durable materials to remain comfortable for the duration of a power-outage.
Smart planning, sustainable design, and resiliency should be built into all neighbourhoods before disasters occur - rather than spending many years (and many dollars) in planning, research, and design after the fact.
Location: Far Rockaway, New York
Completion: 2013
Project Lead: Karl van Es
Project Type: Competition